If there's one group that won't bow to the "woke mob," it's the Texas state police.
A Central Texas police department isn't backing down amid meltdowns from the left after a certain photograph hit social media. Liberals want an apology but it appears there's little hope of getting one.
All Of This Because A Police Officer Took A Photo With Kyle Rittenhouse.
Rittenhouse made headlines across the country in 2020, when he was charged with the shooting deaths of two people during an August riot. He was then found not guilty of those charges in November of last year.
During a traffic stop in Thrall, Texas, a local officer met Rittenhouse, and decided to snap a picture. The police department then posted the photo on Facebook.
However, this didn't go over well with leftists who are still annoyed over the 2021 verdict. They immediately rose up and demanded an apology from the department for putting up the picture.
It just isn't going to happen, though.
Here's the response from police officials, and it isn't likely to make the "woke" feel any better: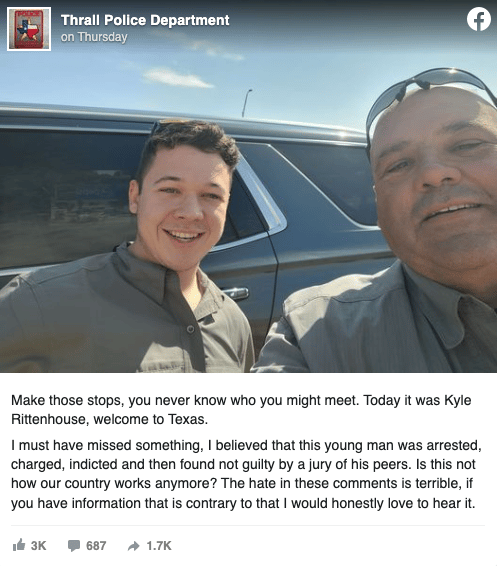 In the post, the cop says he doesn't understand all the hate flung about in the comments. And if anyone has any information that conflicts with the court's innocent verdict, they should come forward.
Of course, that didn't happen.
The post garnered well over 10,000 reactions and most of them were positive. Likely this is one of the reasons the police didn't feel the need to apologize: the ultra-vocal woke crowd is frequently in the vast minority.
One enraged person wrote: "Sick You Are Making Him Out As A Hero. Shame On Your Officer And This Department."
This is the sort of hate the officer was referring to, and again, the majority of responses were positive. The officer is correct about the Rittenhouse verdict; the court ruled that he was innocent of the charges.
The backlash is also tough to stomach for many Americans, who are watching crime spiral out of control across the nation. Gang warfare and drug lords appear to be running amok, so maybe an innocent Rittenhouse should be the last of our concerns.
In this case, the Texas police are only standing by the court's ruling. That was made clear in the official response, even if it's likely to trigger the left even more.