Kentucky Republican Senator C.B. Embry Resigns Amid Battle With Cancer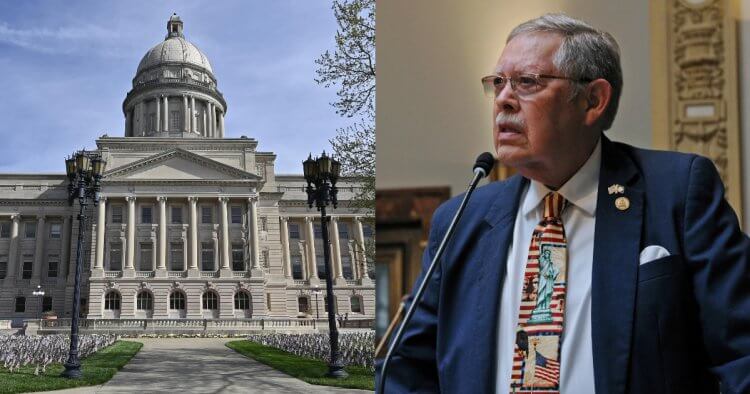 Kentucky Republican Sen. C.B. Embry has stepped down from the General Assembly, submitting his resignation letter on Monday to Senate President Robert Stivers, as he battles cancer.
The Republican lawmaker from Morgantown was elected to the Kentucky House of Representatives in 2002. He was later elected to the Senate in 2014, and has served on several committees, including his current position as chair of the Veterans, Military Affairs, and Public Protection Committee.
Embry has been elected 12 times to five different public offices over the last 50 years, but in early 2022 he announced he planned to step down due to a long battle with cancer. The Republican senator often traveled to Frankfort alongside his wife, Wanda, while undergoing cancer treatment and would participate in legislative sessions so that he could cast votes and uphold his duty to his constituents.
"It has been an honor of a lifetime to serve the Commonwealth of Kentucky and the good of the people of District 6," Embry said in his resignation letter. "During my time in the Senate, I can truly say that I and my colleagues worked each day to make Kentucky an even greater state."
"C.B. Embry is one of the kindest souls I encountered during my tenure in Frankfort. His dedication to representing his constituents, upholding his duty as a public servant, and sticking to his values are unmatched. Nothing but respect," Republican communications official Noah Lucas said on Twitter.
"C.B. Embry is the epitome of a committed public servant who traveled back and forth to Frankfort, scheduling his treatments around our floor and committee activity," said Stivers in a statement.
House Speaker David Osborne called him an "indomitable advocate for the people of his district," adding that, "C.B. is the very definition of a servant leader, guided by his faith to be an indomitable advocate for the people of his district. That same faith has made him an inspiration as his commitment to family and service has not waivered during this long and arduous battle with cancer. I wish he and Wanda the very best and the comfort of knowing that they are both leaving here after a job well done."
"While I am saddened to learn that Senator Embry has resigned, I respect his decision as I respect him for his lifelong commitment to bettering our commonwealth," Osborne said. "It was an honor to serve with him in the House and a privilege to work with him after he was elected to the Senate."
"They don't make public servants more dedicated than CB Embry. Carlos Brogdon Embry, Jr., is a genuinely decent human being, an elected leader who personally engages daily with his constituents and proudly stands up for them. What a life of service. I'll miss CB & Mrs. Wanda," said Whitney Westerfield, a Republican state senator and chairman of the state Senate Judiciary Committee.
"We are grateful to Senator Embry for his many years of public service and wish him the very best," Kentucky Secretary of State Michael Adams tweeted.
Kentucky GOP state Senator Wil Schroder, "Despite undergoing cancer treatment C.B., & his wife Wanda, always made it to Frankfort so he could fulfill his obligations as a State Senator. Both he and Wanda are incredible examples and his constant fight and presence made us better colleagues & a stronger legislative body,"
"Always gracious, always willing to talk about what could best meet the needs of students, Sen. C.B. Embry served with distinction. I am glad I had the opportunity to know him and wish him all good things as he leaves public service," said Alicia J. Sells.