Gladstone, Oregon – (Scroll down for video) — On November 22, 2021, just before 8 p.m., Gladstone Police Officer Clement Lau pulled over now 37-year-old Yvette Lares Garcia after she did not stop at a stop sign. During the stop, Officer Lau learned Garcia had an extraditable warrant from Texas and took her into custody.
DOGS
After Gladstone Sgt. Travis Hill arrived to the scene, Garcia told officers she was concerned about her two pit bulls alone at her home. Officers agreed to stop at her home on the way to jail to secure her dogs for Clackamas County Dog Control.
The officers arrived at the home with Garcia. She was in handcuffs at the time. They enter the home through the garage and the dogs rushed out. The dogs barked at the officers, one growling. Garcia recommends getting leashes for her pets. With her hands behind her back and in handcuffs, Garcia walked upstairs to get a leash. Garcia drew Sgt. Hill's attention away from her for a moment and was able to grab a 9mm semi-automatic handgun from a nearby nightstand.
Garcia said she would not go back to jail and then shot Sgt. Hill in the lower leg. The two officers then exchanged gunfire with Garcia, yelling at her multiple times to drop the gun. Moments later, backup arrives, and Officer Lau rushed in to help his partner. Garcia was hit in the torso multiples times and taken to the hospital for treatment.
Officer Lau was not injured, but Sgt. Hill was shot in the leg and grazed on the arm. Hill's leg wound caused permanent injury and he left law enforcement.
10 years in prison
On. October 12, 2022, Clackamas County Circuit Judge Cody M. Weston sentenced Garcia to 10 years in prison, the maximum sentence allowed for attempted aggravated murder under Oregon law. She is also required to pay Hill a $50,000 compensatory fine for injuries that caused permanent injury. Texas officials intent to extradite Garcia for allegedly embezzling $1.4 million from an oil company where she worked in Ector County.
Garcia was sentenced after the court heard emotional testimony from Gladstone Police Department officers regarding the shooting.
'We treated you with the utmost dignity and respect,' said Sgt. Travis Hill in court.
The sergeant, a 20-year-veteran of the force, had to resign from his position due to injuries he sustained from being shot by Garcia.
'My kids don't understand how or why you would do something that causes me so much pain. They have watched as I've fought through the physical pain and discomfort every single day.'
Bodycam video shows the horrific moments in which one of the officers inside of the home is shot by the woman who was still handcuffed.
Lau, whose body cam footage was released, fires back up at Garcia before she can be heard crying, also having been hit.
'Drop the gun or you'll be shot again,' Lau yells at the woman.
She responds by saying 'no' and once again begins firing.
The lawyer for Garcia claimed the woman didn't know she was wanted in Texas and that she was hoping police would shoot her because she was suicidal.
'Her plan was to die at home, having law enforcement shoot her, that's why she didn't put the gun down in the stairwell,' the lawyer claimed.
'She wanted law enforcement, with all due respect, to finish the job. Her plan was to commit suicide by cop. It's not a justification, certainly not an excuse, but it is an explanation.'
WATCH:
Footage from a Gladstone police officers body cam, released by the Clackamas County District Attorney to The Oregonian/OregonLive, shows the sequence of events on November 22, 2021, when a simple traffic stop turned into a woman firing at two officers, injuring one, as they tried to help with her large American Bully breed dogs before she was to be extradited via jail to face a warrant for her arrest in Texas. Yvette Yares Garcia, 37, was sentenced to 10 years in prison this week for attempted aggravated murder, first degree assault and attempt to commit a class B felony.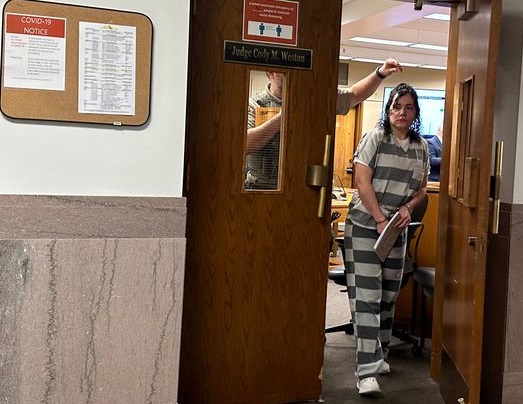 Garcia, appearing in a gray striped Clackamas County jail uniform, apologized in court.
"I turned a great act of kindness and humanity into something horrific. You were able to see my anguish over my fur babies and went out of your way to help me. I remember you relating to me with your love of your dogs," she said of Hill. "That stays with me and I think about that all the time."
Through tears she also addressed her family, many of whom appeared by teleconference in court.
"Discúlpame," she said. "Hasta que estemos juntos."
SOURCES
BREAKING 911
Daily Mail
Oregon Live
What a freaking SCUMBAG!
#BLUELIVESMATTER
TTOA ARE STAUNCH SUPPORTERS OF LAW ENFORCEMENT, BORDER PATROL, ICE, FIRST RESPONDERS, OUR MILITARY AND ALL THE BRAVE MEN AND WOMEN WHO HAVE DEDICATED THEIR LIVES TO KEEPING AMERICA SAFE.
H/T: AMERICAS FREEDOM FIGHTERS
God Bless.
Please take a moment and share our articles with your friends,  family and on all social media sites! Thank you, we appreciate it!